Maine Lobster and Swordfish
Dinner for 4
$219.95
Reg.
$249.94
save 12%
Transport your guests to the scenic shores of Maine - all without ever leaving home. This Maine Lobster and Swordfish Dinner for 4 has everything you need for an incredible seafood feast.
Use Promo Code: 20DINNERPACK
To receive 20% OFF Selected Packages! Expires August 25th
QUICKS FACTS:

MAINE LOBSTER:

Cold Water Maine Lobster is the sweetest, most succulent species of lobster in the world

SUSTAINABLE:

Seafood caught using practices that maintain healthy fish populations and ecosystems, while also ensuring the livelihoods of fishermen and coastal communities

FRESH:

Our seafood is caught once the customer has placed an order, guaranteeing freshness and minimizing waste

NUTRIENTS:

Vitamin B12, Zinc, Selenium, Omega-3 fatty acids, Vitamin C, Vitamin D

SHIPPED OVERNIGHT:

To guarantee freshness upon arrival
Ocean to Table
At Maine Lobster House, we only offer the freshest seafood options. Our cold water lobsters have sweet white meat, known for being the best tasting lobster in the world. Maine lobster is caught from cold waters, and served very fresh. The perfect entree to enjoy with any meal. If you're looking for the very best seafood on the market, then you've come to the right place.
Maine Lobster and Swordfish Dinner for 4
Delight any seafood lover at your next dinner party with this Maine Lobster and Swordfish Dinner for 4. Each package includes 4 1.5 lb. Fresh Live Lobsters, 4 lbs. of SoftShell Steamer Clams and 2 lbs. of Swordfish. You are guaranteed to taste the difference of fresh, Maine seafood as you and your guests delight in each course. Perfect for your next gathering, this seafood package is conveniently delivered right to your door.
Assortment Includes:
4 1.5 lb Fresh Maine Live Lobster
4lbs Soft Shell Steamer Clams
2lbs Swordfish
Live Lobster
Transport your friends and family to the scenic coastlines of Maine with fresh, 1 & 1/2 lb. of Live Maine Lobsters delivered directly to your door. Guaranteed to impress your guests at your next dinner party or barbecue, these lobsters are some of the finest in the world. Freshly caught off the coast of Maine, they offer unparalleled sweet, succulent flavor and freshness.
Soft Shell Steamer Clams
Indulge in the sweet, succulent taste of Maine Steamer Clams at your next family dinner or celebration. Sourced directly from local Maine clammers, you'll enjoy some of the highest quality clams in the nation. Cleaned, packaged, and shipped directly to your door, these clams are perfect to have on hand for an unforgettable addition to any meal.
Swordfish
Treat your family to the sweet, mild flavor of swordfish for dinner when you order 2lb Swordfish Steaks directly to your door. Mild in flavor, with a firm texture that some would compare to steak, it's a crowd pleasing seafood option for whoever you are feeding. Easy to prepare whether baked, broiled, or grilled, you can have a delicious dinner for 4 on your table with ease.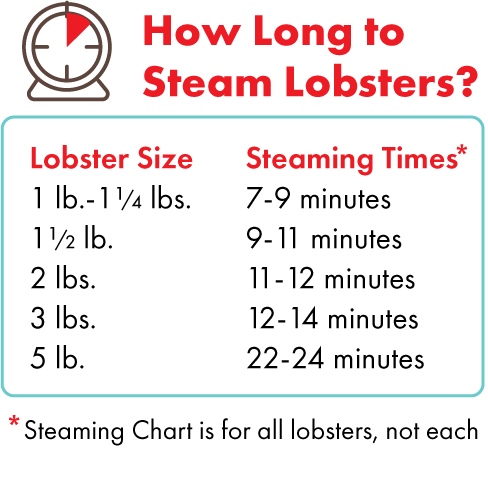 Boiled Maine Steamer Clams
1. Rinse the clams under cold water and scrub off any dirt or debris from the shells.
2. Fill a large pot with an inch of water and bring it to a boil.
3. Add the steamer clams to the pot and cover with a tight-fitting lid.
4. Cook the clams for 5-10 minutes, or until the shells open.
5. Using tongs, remove the cooked clams from the pot and discard any that did not open.
6. Serve the steamer clams hot, with melted butter and lemon wedges on the side.
You can also add other seasonings or aromatics to the cooking liquid, such as garlic, white wine, or herbs, to add additional flavor to the steamer clams. Enjoy!
Pan Seared Swordfish:
1. Pat the swordfish steak dry with paper towels and season both sides with salt and pepper.
2. Heat a tablespoon of oil in a non-stick skillet over medium-high heat.
3. Place the swordfish steak in the skillet and cook for about 4-5 minutes on each side, until the steak is browned and cooked through.
4. Add a knob of butter to the skillet in the last minute of cooking, and spoon the melted butter over the steak to baste it.
5 .Remove the swordfish steak from the skillet and let it rest for a few minutes before serving.
Wine Pairing
Lobster is one of those flavors you don't want to mask with a bunch of sauce and seasonings. Usually, all it needs to brighten its natural flavors is some butter or a light wine sauce, as anything else might overwhelm its decadent, yet delicate, flavors.The best pairing for lobster and wine would be Pinot Grigio or Sauvignon Blanc, both of which blend well to non-complex seafood dishes with subtle flavors. They don't overpower the natural taste of lobster, but instead help to brighten it up with their fruity tastes.
Swordfish is a meaty and flavorful fish that pairs well with a variety of white wines. A full-bodied, oaky Chardonnay pairs well with swordfish because it can stand up to the meaty flavor of the fish while complementing its richness. A crisp, acidic Sauvignon Blanc is also a great option because it can cut through the meaty texture and refresh the palate. Look for a Sauvignon Blanc with herbal and citrus notes.
Packaged with Care
When you place an order with Maine Lobster House, we do everything we can to ensure that your package arrives in excellent condition. All live lobsters are delivered fresh, guaranteed to arrive alive. They are packaged with gel packs in insulated coolers to keep the lobsters cool, and seaweed to keep the moisture in. Each lobster is separated to ensure they don't pile on top of each other, Our other seafood items are vacuum wrapped and flash frozen to lock in the flavor. For more information on shipping, and other Frequently Asked Questions see our FAQ page.
Watch the Video to see how your order is packed, how it will arrive, and how to thaw it properly.
For more information please see the Shipping Details page.