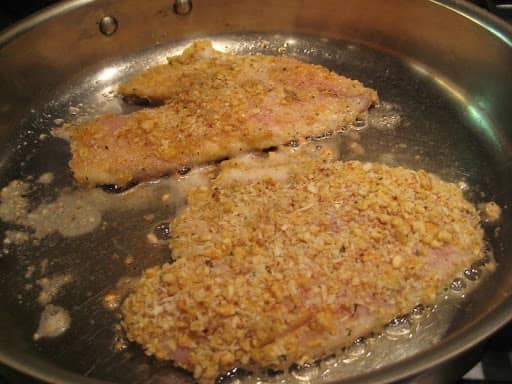 Looking for a meal in minutes? This easy pan-fried tilapia is an excellent option to keep in your meal rotation for lunch or dinner in a pinch. This preparation involves breading the fish and pan-frying for a flavor packed meal that's sure to be a hit. 
Ingredients for Pan-Fried Tilapia
4 tilapia filets 

1/4 cup seasoned breadcrumbs

1/4 cup panko breadcrumbs

1 egg

1 tablespoon milk

Salt + pepper (to taste)

Canola oil (for frying)
Instructions for Pan-Fried Tilapia
To begin making pan-fried tilapia, prepare 2 shallow bowls for your liquid and solid mixtures. In the first bowl, beat your egg and milk together and season with salt and pepper. In the second bowl, combine panko and seasoned breadcrumbs. (If you don't have seasoned breadcrumbs on hand, add seasonings of your choice such as garlic powder and dried herbs). 

Next, dip the Tilapia in your liquid mixture, making sure each filet is fully coated.

Transfer the coated filets into the breadcrumb mixture, lightly pressing each side of the tilapia filet into the mixture. 

Next, heat a few tablespoons of canola oil over medium heat. Add tilapia to the pan, making sure the oil bubbles around the filets when added. Cook on each side for 3-4 minutes until slightly golden brown. Remove from the pan and place on a paper towel lined plate to drain excess oil. 

Serve hot with your favorite dipping sauce like tartar sauce, or simply a squeeze of fresh lemon.
Pan-Fried Tilapia is delicious served with rice and green vegetables or a fresh salad. Enjoy!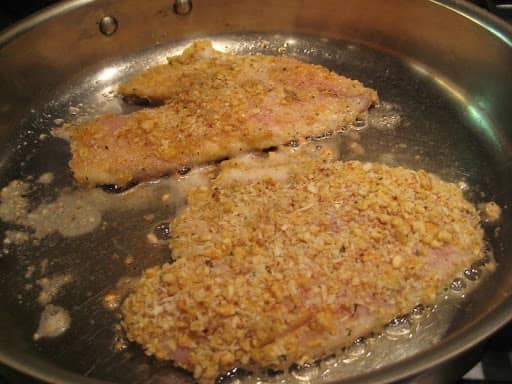 Pan-Fried Tilapia
Ingredients  
4

tilapia filets

1/4

cup

seasoned breadcrumbs

1/4

cup

panko breadcrumbs

1

egg

1

tbsp

milk

salt, to taste

pepper, to taste

canola oil (for frying)
Instructions 
To begin making pan-fried tilapia, prepare 2 shallow bowls for your liquid and solid mixtures. In the first bowl, beat your egg and milk together and season with salt and pepper. In the second bowl, combine panko and seasoned breadcrumbs. (If you don't have seasoned breadcrumbs on hand, add seasonings of your choice such as garlic powder and dried herbs).

Next, dip the Tilapia in your liquid mixture, making sure each filet is fully coated

Transfer the coated filets into the breadcrumb mixture, lightly pressing each side of the tilapia filet into the mixture

Next, heat a few tablespoons of canola oil over medium heat. Add tilapia to the pan, making sure the oil bubbles around the filets when added. Cook on each side for 3-4 minutes until slightly golden brown. Remove from the pan and place on a paper towel lined plate to drain excess oil

Serve hot with your favorite dipping sauce like tartar sauce, or simply a squeeze of fresh lemon