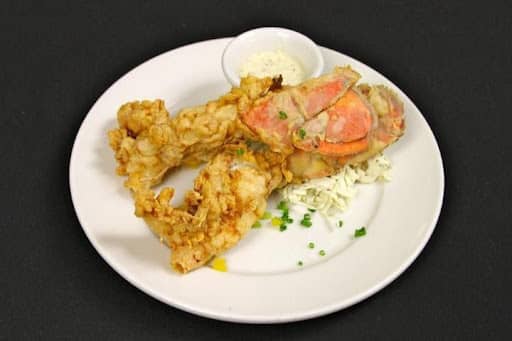 Photo by GW Fins is marked with CC BY 2.0
Treat yourself and your loved ones to an unforgettable meal with Fried Lobster Tails. This indulgent cooking method combines the best of fresh lobster with a crispy coating for a delightful mix of flavors that are sure to delight. 
Any great recipe starts with the best ingredients. Our Maine Lobster Tails are caught straight off the Maine coastline, flash-frozen to lock in the freshest flavor and delivered directly to your door. 
In addition to the lobster tails, you'll need just a few simple ingredients to make this recipe at home. 
What You'll Need: 

Tools:
Large Bowl

Kitchen Scissors/Shears

Large Pot 

2 Shallow Bowls

Instant Read Thermometer 

Slotted Spoon or Tongs
Ingredients: 
Maine Lobster Tails

Frying Oil (such as Vegetable, Canola, or Cultured Oil)

Eggs

Seasoned Breadcrumbs or Panko + Desired Seasonings 

Butter (to melt for dipping)



How to Prepare Fried Lobster Tails: 
To begin any lobster recipe, you'll want to defrost your lobster tails. Place the tails in a large bowl of cold water for 30-60 minutes, replacing the water halfway through if lobsters are still frozen. Ensure that your lobster tails are fully defrosted before cooking. Doing so ensures that your lobsters cook evenly throughout. 

The next step in preparing your lobster recipe is to butterfly the lobster tails. Carefully cut the shell back lengthwise, exposing the lobster meat. You can either pull the lobster out of the shell so it sits on top, or remove the shell altogether. 

Next, preheat a large pot with with vegetable or canola oil for frying. Make sure to add enough oil to the pot so that your lobsters will be fully submerged. 

While the oil is preheating, prepare an egg wash to coat the lobster meat. Beat 1-2 eggs in a shallow bowl, then set aside. 

In a separate bowl, prepare a dry mixture with seasoned breadcrumbs or create a mixture of panko breadcrumbs and your desired seasonings (such as Old Bay seasoning, or garlic, salt and paprika). 

Next, dip your lobster tails in the egg wash, allowing any excess to drip off. Make sure that the lobster meat is fully coated. This will allow the seasoning mixture to stick. 

Next, roll your lobster meat in the breadcrumbs until fully coated, shaking off any excess. 

Once all of your lobsters are coated, make sure your oil has reached a temperature between 350 and 375 degrees Fahrenheit. 

Carefully place the lobster tails in the frying oil and cook for 4-5 minutes until golden brown. 

Using tongs or a slotted spoon, remove the tails one at a time from the hot oil and place on a paper towel lined plate or baking rack to drain. 

You can check that your meat is fully cooked by inserting an instant read thermometer into the thickest part of each lobster tail. The temperate should read between 140 and 145 degrees Fahrenheit. 

Serve Fried Lobster Tails alongside your favorite dipping sauce, like garlic butter. 
While this take on lobster tails is quite indulgent, it makes for an outstanding and unexpected treat for friends and family alike. 
For more recipe ideas visit Seafood University, or get started with this recipe when you order Maine Lobster Tails today.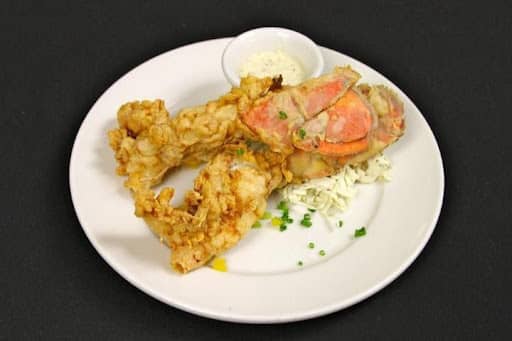 Frying Lobster Tails
Equipment
large bowl

kitchen scissors/shears

large pot

2 shallow bowls

instant read thermometer

slotted spoon or tongs
Ingredients  
maine lobster tails

frying oil (vegetable oil or canola oil)

eggs

seasoned breadcrumbs or panko + desired seasonings

butter (to melt for dipping)
Instructions 
To begin any lobster recipe, you'll want to defrost your lobster tails. Place the tails in a large bowl of cold water for 30-60 minutes, replacing the water halfway through if lobsters are still frozen. Ensure that your lobster tails are fully defrosted before cooking. Doing so ensures that your lobsters cook evenly throughout

The next step in preparing your lobster recipe is to butterfly the lobster tails. Carefully cut the shell back lengthwise, exposing the lobster meat. You can either pull the lobster out of the shell so it sits on top, or remove the shell altogether

Next, preheat a large pot with vegetable or canola oil for frying. Make sure to add enough oil to the pot so that your lobsters will be fully submerged

While the oil is preheating, prepare an egg wash to coat the lobster meat. Beat 1-2 eggs in a shallow bowl, then set aside

In a separate bowl, prepare a dry mixture with seasoned breadcrumbs or create a mixture of panko breadcrumbs and your desired seasonings (such as Old Bay seasoning, or garlic, salt and paprika)

Next, dip your lobster tails in the egg wash, allowing any excess to drip off. Make sure that the lobster meat is fully coated. This will allow the seasoning mixture to stick

Next, roll your lobster meat in the breadcrumbs until fully coated, shaking off any excess

Once all of your lobsters are coated, make sure your oil has reached a temperature between 350 and 375 degrees Fahrenheit

Carefully place the lobster tails in the frying oil and cook for 4-5 minutes until golden brown

Using tongs or a slotted spoon, remove the tails one at a time from the hot oil and place on a paper towel lined plate or baking rack to drain

You can check that your meat is fully cooked by inserting an instant read thermometer into the thickest part of each lobster tail. The temperate should read between 140 and 145 degrees Fahrenheit

Serve Fried Lobster Tails alongside your favorite dipping sauce, like garlic butter