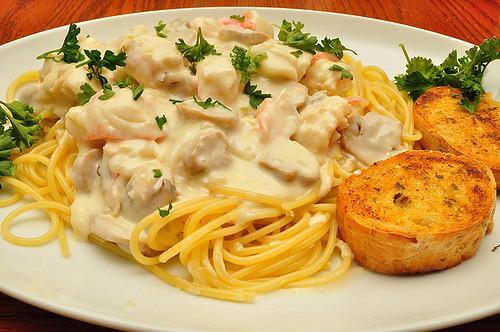 Photo by Jeffreyw licensed by CCO

This hearty pasta dish is sure to be a treat for the family with fresh lobster from Maine Lobster House, tender pasta, and a creamy white wine sauce with a hint of garlic for just the right flavor. Technically, you can even do without the pasta, keep the lobster tails whole, and make the wine sauce on its own to pour over the tails. Either way, this delicious sauce is the perfect addition to just about any seafood and is sure to become a staple on your recipe list.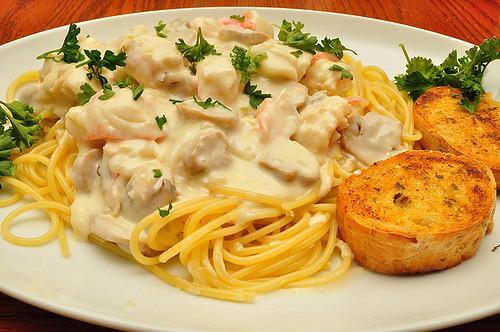 | | |
| --- | --- |
| | |
1. Preheat a skillet to medium heat. Meanwhile, bring a large saucepan of water with a pinch of salt to a boil to cook the pasta.

2. Cook pasta until tender and remove from heat; Drain, add a splash of olive oil, and mix.

3. Once skillet is heated up, add the butter, garlic cloves, thyme, basil, parsley, salt and pepper. Allow butter to melt, and then slowly add white wine while stirring.

4. Allow the mixture to come to a boil, stirring consistently.

5. Reduce heat to medium-low and add in the diced lobster.

6. Cook for about 10 minutes, occasionally stirring, until the sauce thickens, and lobster is heated through.

7. Serve the lobster and sauce over pasta. Enjoy!
If you'd rather serve the sauce over lobster tails, you can keep the tails intact and cook them using your favorite method while you make the sauce. Remember to cut open the top part of the shell before you bake or grill your lobster tails to allow heat to penetrate the meat. Once the sauce is done, pour it over the exposed meat or dip the lobster meat into the buttery sauce on the side! Remember to check out Maine Lobster House's recipes, articles, and helpful lobster guides, and see what's new to purchase online for at-your-doorstep seafood delivery.