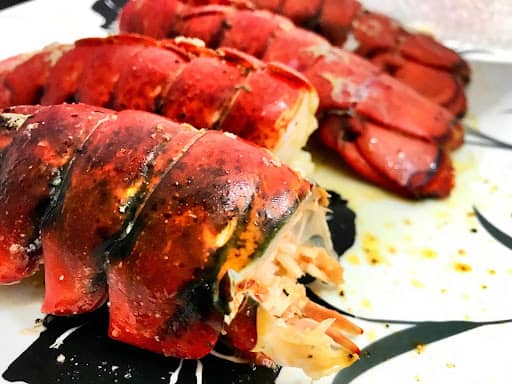 Photo by anokarina is marked with CC BY-SA 2.0
Savor the sweet summertime flavor of a gourmet classic: grilled lobster tails. This exquisite preparation brings the best of summertime flavors and fresh seafood for a meal that's bound to be remarkable. 
Any great lobster dinner begins with the best ingredients, like Fresh Lobster Tails from Maine Lobster House. Freshly caught, we flash-freeze each tail to lock in freshness and deliver them directly to your door. Regardless of where you live, you can have the freshest flavors of Maine at your dinner table. 
Once your lobster tails arrive, you'll want to defrost them fully before cooking. Doing so ensures that they cook evenly and fully throughout. Defrost your tails in a bowl of cold water for 30-60 minutes, replacing the water after 30 minutes if the lobster is still not fully thawed. 
Once defrosted, you're ready to cook! 
What You'll Need to Prepare Grilled Lobster Tails: 

Tools: 
Large Bowl

Large Pot

Small Pot

Grill

Skewers

Kitchen Scissors/Shears

Spoon or Pastry Brush

Instant Read Thermometer
Ingredients: 
Maine Lobster Tails

Butter (salted or unsalted)

Seasonings of choice

Fresh Garlic

Lemon Juice

Fresh Parsley 
How to Grill Lobster Tails
The first step to grilling lobster tails actually begins with a quick boil. Doing so ensures that your lobster tails are fully cooked through without getting overcooked on the grill.

Heat a large pot of cold water over medium heat until boiling. Make sure to add enough water so that each tail will be fully submerged in the water.  

Once boiling, place each lobster tail in the water and cook for about 2 minutes. 

Carefully remove and lay on a towel to dry. 

Next, you'll want to heat up your grill. Gas grills should be heated on medium. 

While the grill is heating up, place a skewer lengthwise through each lobster tail. 

Once the skewer is inserted, you'll want to butterfly your lobster tails. Using kitchen scissors, carefully cut the shell back lengthwise to expose the lobster meat. 

Next, prepare a melted butter mixture including 1 tablespoon of melted butter for each tail and your favorite seasonings. Grilled lobster pairs well with butter, lemon, garlic, and fresh parsley.  Melt butter in a small pot over medium heat.

Using a pastry brush, baste each lobster tail with the melted butter mixture and then grill them, meat side down. 

Grill lobster tails for approximately 2 minutes, or until the internal temperature in the thickest part of the tail is 140 degrees Fahrenheit. 

Serve grilled lobster tails alongside fresh lemon slices. 
While there are a few extra steps involved with grilling lobster tails – each step ensures that your lobster tails are perfectly cooked and oh-so tasty. 
Give this grilled lobster recipe a try at your next summer cookout for a meal that is sure to delight your family and friends.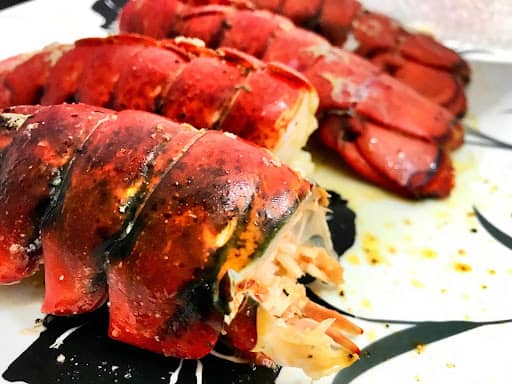 Grilled Lobster Tails
Equipment
large bowl

large pot

small pot

grill

skewers

kitchen scissors/shears

spoon or pastry brush

instant read thermometer
Ingredients  
maine lobster tails

butter (salted or unsalted)

seasonings of choice (ie: fresh garlic, lemon juice, fresh parsley)
Instructions 
The first step to grilling lobster tails actually begins with a quick boil. Doing so ensures that your lobster tails are fully cooked through without getting overcooked on the grill

Heat a large pot of cold water over medium heat until boiling. Make sure to add enough water so that each tail will be fully submerged in the water

Once boiling, place each lobster tail in the water and cook for about 2 minutes

Carefully remove and lay on a towel to dry

Next, you'll want to heat up your grill. Gas grills should be heated on medium

While the grill is heating up, place a skewer lengthwise through each lobster tail

Once the skewer is inserted, you'll want to butterfly your lobster tails. Using kitchen scissors, carefully cut the shell back lengthwise to expose the lobster meat

Next, prepare a melted butter mixture including 1 tablespoon of melted butter for each tail and your favorite seasonings. Grilled lobster pairs well with butter, lemon, garlic, and fresh parsley.  Melt butter in a small pot over medium heat

Using a pastry brush, baste each lobster tail with the melted butter mixture and then grill them, meat side down

Grill lobster tails for approximately 2 minutes, or until the internal temperature in the thickest part of the tail is 140 degrees Fahrenheit

Serve grilled lobster tails alongside fresh lemon slices