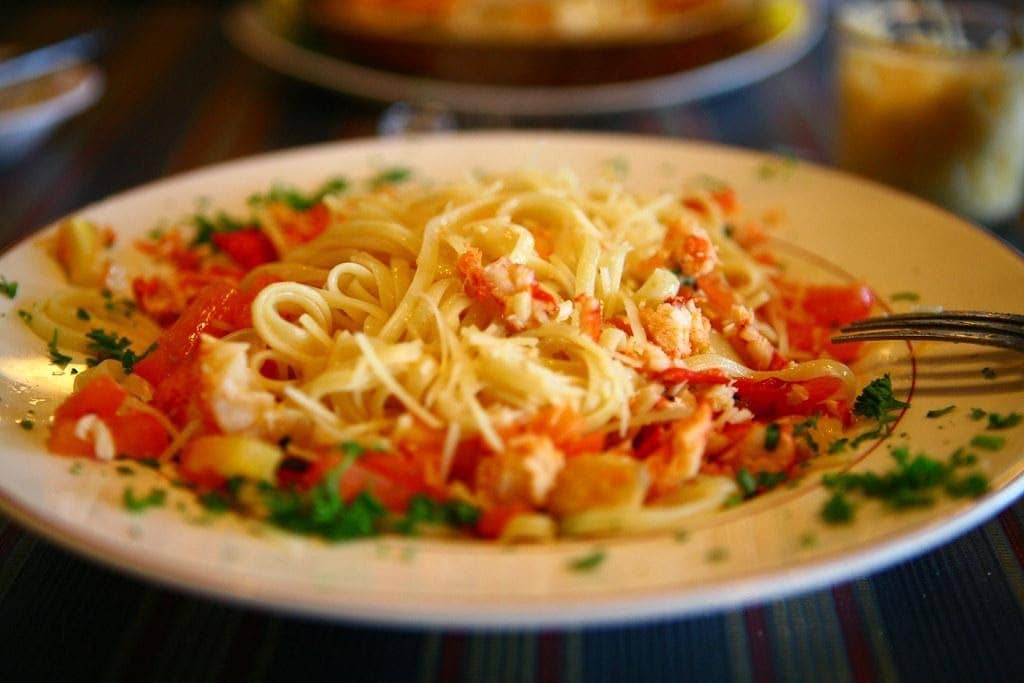 "lobster scampi :-)" by *highlimitzz is licensed under CC BY 2.0
Do you love Red Lobster shrimp scampi? It's hard to beat that savory seafood meal, especially when paired with the restaurant's famous cheddar biscuits. But there's actually no need to leave your home to make a seafood meal as delicious as the garlic shrimp scampi you find at your favorite restaurants.
Below, we're featuring a scampi recipe using freshly cooked Maine lobster, which is a perfect substitute for shrimp. The summer season is coming up, so it's an excellent time to start planning some meals with fresh lobster. Lobster scampi can be made using one skillet in under 30 minutes, making it just right for those hectic weeknights when you want something fuss-free to cook.
What Is Lobster Scampi?
Not familiar with lobster scampi or shrimp scampi? There's some confusion with what exactly lobster scampi is — and with good reason. That's because scampi is both an animal of the sea and a dish style. 
First, let's talk about scampi in its seafood form. Scampi, also known as the Norway lobster, is a type of lobster that looks much different from the traditional Maine lobster you're probably more familiar with. Scampi can reach almost a foot in length, but they're more similar to shrimp in their coloring, with a shell that's an orange-pink hue. In fact, their coloring often makes people mistake them for shrimp. Scampi is an edible seafood, just like other crustaceans. 
However, when we talk about lobster scampi, we're actually referring to a scampi-style dish that uses lobster meat — usually from lobster tail — with a buttery garlic sauce. Scampi dishes are usually served over noodles, like linguine or fettucini, but the meat can also be served alone with the garlic butter sauce. Some people also prefer low-carb lobster scampi meals by serving the meat and garlic butter over a zucchini noodle bed.
Scampi dishes often use shrimp (you'll find Red Lobster shrimp scampi on the menu there and many other seafood restaurants), but pasta scampi dishes work beautifully with fresh lobster, too.
Try This Lobster Scampi Recipe!
Ready to make lobster scampi at home? Get your lobster and pasta ready, and follow the instructions below to cook a delicious dish that the whole family can enjoy. This recipe yields 4 servings and cooks in under 30 minutes. 
Ingredients
1 ½ pounds fresh, cooked

Maine lobster meat

8 ounces of choice pasta, like fettucini or linguine, cooked (optional)

2 tablespoons olive oil

Salt

Black pepper

4 cloves garlic, minced

2 tablespoons fresh lemon juice

½ cup white wine or white cooking wine

8 tablespoons salted butter, softened and separated into 2-tablespoon sections

1 teaspoon crushed red pepper flakes

½ teaspoon parsley

½ teaspoon basil

½ teaspoon cayenne pepper

½ teaspoon oregano
Lobster Scampi Recipe Instructions
Start by cooking the pasta, if you're using it, and lobster using your preferred method. The scampi sauce doesn't take long to prepare, so you'll want these cooked ahead of time. Drain the pasta and drizzle with olive oil. Add salt and pepper to the lobster and pasta, seasoning it to taste. Set the lobster and pasta to the side, away from heat, while you make the sauce.
Preheat a large skillet over medium high heat. Separate 2 tablespoons of salted butter and add it to the pan. Melt butter, then add minced garlic. Stir frequently until fragrant for 1-2 minutes.

Add the lemon juice and white wine slowly, stirring consistently as you pour it in the pan. Bring the mixture to a boil. Stir, then reduce heat to low. Allow the liquid to reduce as it simmers for 5 minutes.

Add in the lobster meat. Add the red pepper flakes, parsley, basil, cayenne pepper, and oregano; stir thoroughly. 

Place butter in the pan in 2-tablespoon sections, stirring consistently until melted. The sauce should thicken a bit and become creamier as you let it simmer for 1-2 minutes.

Remove from heat. Serve immediately, topping the pasta with the lobster scampi sauce mixture. If desired, sprinkle with some freshly grated parmesan cheese. 
Lobster Scampi Recipe Tips
As you can see from the recipe above, lobster scampi isn't something to be afraid of trying at home, even though it might look intimidating at a fancy seafood restaurant. The dish is relatively simple, yet it creates a filling, satisfying meal for the family in just a few minutes. Here are some tips to make the perfect lobster scampi every time:
If you don't have the spices listed in the recipe, but have an Italian seasoning mix, use that instead. It works great for adding some flavor to the dish.

To lower the fat content and calories in the meal, opt for a little less butter and more olive oil. A good place to swap them out is in step one, cooking the garlic in olive oil rather than butter.

Serve the lobster scampi with a lemon wedge or two on each plate. Splash a little freshly squeezed lemon juice over the pasta and lobster for a brighter, fresher flavor.

Although noodles are a go-to pairing for scampi dishes, you have other options. Some people like putting their scampi on top of rice or crusty bread toasted in the oven, for example. You can also eat it plain, which is a good idea if you're watching calories and carbs.

Although this recipe is for lobster scampi, you can always swap out the lobster with other seafood favorites when you want to switch it up. Cook frozen shrimp or raw shrimp or crab meat in a large saute pan before completing the rest of the recipe.
How to Make Lobster Scampi at Home
Fresh lobster scampi cooked in your home's kitchen brings the taste of the sea to your dinner table — and you won't need to pay hefty prices for it like you would in a restaurant. Plus, you'll get to choose just how much lobster you want to add to the dish, unlike the few pieces you might get when you order out.
Need some fresh lobster to make lobster scampi? Order online from Maine Lobster House. We sell real lobsters from Maine that ship live to your door in a cooler with gel packs to keep them cold and fresh until they arrive. Experience the flavors of Maine, no matter where you live.