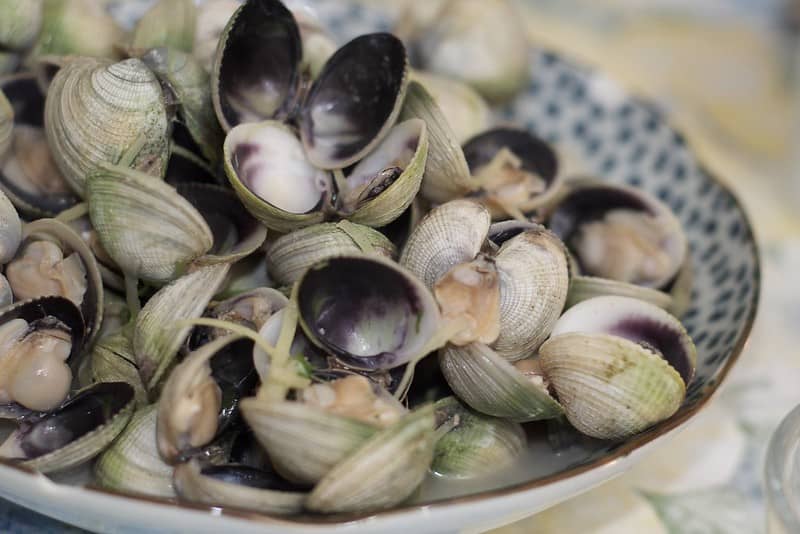 Cockles are a type of small, edible saltwater clam that has been enjoyed by many for centuries. They may be unfamiliar to some, but they offer an array of flavors and textures when cooked correctly. If you're looking to add something new and exciting to your seafood repertoire, then cockles should definitely be on the menu.
This guide covers what cockles are, how best to cook them, and buy them either fresh or frozen. So get ready for an adventure into the world of deliciousness with our tips on preparing and storing cockles so that you can enjoy their unique flavor in every meal.
Table of Contents:
Spicy Asian Stir Fry with Cockles and Vegetables:
Where to Buy Fresh or Frozen Cockles?
Tips for Preparing and Storing Fresh or Frozen Cockles
Properly Storing Fresh or Frozen Cockles:
FAQs in Relation to What Are Cockles
What are cockles called in the USA?
What is the importance of cockles?
What's the difference between a clam and a cockle?
How to Cook Cockles?
Cooking cockles is a great way to enjoy these small bivalve mollusks' fresh, briny flavor. 
Boiling is one of the most popular methods for cooking cockles, and it's easy to do. To boil them, place your cockles in a pot with enough water to cover them completely. Once the liquid is boiling, lower the heat and allow it to simmer until they pop open – usually takes around 10 minutes. Once opened, remove from heat and strain off any liquid before serving.
Steaming is another simple method for cooking cockles that can be done in either a steamer basket or on top of some foil placed over boiling water in a pot. Place your cleaned cockles into the basket or onto the foil and steam until their shells open – about 8-10 minutes, depending on size. Once cooked, discard any unopened shells before serving, as these are not safe to eat.
Grilling can also be used when preparing smaller-sized common cockle varieties such as those found along coastal areas like Britain's shores. Start by cleaning your seafood thoroughly, then lightly oil both sides of each shellfish before placing directly onto an already hot grill surface over medium-high heat (or lower if you prefer). Grill for around 5 minutes per side until they have opened up and become slightly charred – again, discard any unopened ones at this stage too.
Frying is another delicious option for cooking larger varieties, such as those in offshore stocks from fisheries like Ireland's Wild Atlantic Way region. Begin by heating some butter or oil in a pan over medium-high heat, then add your cleaned seafood once hot enough but not smoking. Cook for 2-3 minutes per side, flipping halfway through until golden brown all over and crispy on the edges – yum. Serve immediately with lemon wedges and tartar sauce if desired.
Cooking cockles is a simple process that requires minimal effort yet yields delicious results. With the right ingredients and techniques, you can easily create unique dishes using these flavorful shellfish.
Key Takeaway: Cooking cockles is a breeze – you can boil, steam, grill, or fry them for the perfect seafood dish. Just make sure to discard any unopened shells before serving.
Recipes Using Cockles
Bivalve species such as cockles can be used to create a range of tasty dishes, from spicy stir fries to creamy chowders. These tasty morsels make for an interesting addition to any seafood dish. Here are four delicious recipes using cockles:
Spicy Asian Stir Fry with Cockles and Vegetables:
This zesty stir fry is sure to tantalize your taste buds. Start by marinating the common or small cockles in soy sauce, sesame oil, garlic, ginger, chili flakes, and white pepper. In a hot wok or large skillet, sauté your chosen vegetables (onion, bell peppers, carrots, etc.) in vegetable oil until lightly cooked. Once lightly cooked, add the marinated cockles and more soy sauce if desired. Cook until everything is heated through, then serve over steamed rice or noodles for a complete meal.
Classic Fish and Chips with a Twist (Cockle Edition):
This classic British dish gets an upgrade when you add larger cockles into the mix. Begin by coating fish fillets such as cod or haddock in flour seasoned with salt and pepper, then deep-fry them until golden brown. For added flavor, try tossing together some fresh herbs like parsley or thyme with lemon juice before dipping each piece of fish into it before frying. As for the chips – simply slice potatoes into wedges, then fry them alongside the fish until crispy on both sides. Finally, top off this hearty dish with freshly cooked cockles served on top of all ingredients while still hot from cooking.
Mediterranean Style Risotto With Freshly Cooked Cockles:
This risotto recipe calls for Arborio rice which should be cooked according to package instructions before adding other ingredients like diced onion, minced garlic cloves, and canned tomatoes (drained). While stirring continuously, pour chicken broth one ladle at a time, allowing each batch to absorb completely before adding more liquid – repeat the process until all broth has been used up but don't forget about seasoning it generously. Now comes the time for finishing touches – toss freshly cooked smaller-sized cockle shells into the risotto just minutes before serving to ensure that their delicate texture remains intact during the cooking process. Making this flavorful Mediterranean-style risotto truly is a unique experience not soon forgotten.
Cooking with cockles can be a delicious and creative experience. Let's explore where to buy fresh or frozen cockles for your next seafood dish.
Key Takeaway: This article presents four delicious recipes featuring cockles, a versatile bivalve species. From spicy stir-fries to fish and chips with a twist, these tantalizing dishes will surely make your mouth water. Get creative in the kitchen by adding freshly cooked smaller-sized cockle shells into risotto for an unforgettable Mediterranean flavor experience.
Where to Buy Fresh or Frozen Cockles?
When it comes to obtaining cockles, there is a range of choices available – from fresh to frozen. Local fish markets and grocery stores can be great places to find fresh seafood, including cockles. At times, getting hold of some live cockles is possible too. Online retailers and delivery services are other options for those looking for convenience when purchasing their seafood. 
Local fish markets may be the best bet for finding fresh cockles for those living in coastal areas. They typically carry a wide selection of shellfish varieties harvested nearby, so you know you're getting the freshest product possible. Plus, many of them will even shuck them right in front of you if desired. If your area doesn't have any local fish markets or if they don't carry what you need, then online retailers might just do the trick instead. Sites like Amazon Fresh offer an array of pre-shucked frozen products delivered straight to your door without the hassle.
Specialty seafood shops and restaurants should not be overlooked either, as they usually provide delicious meals made with freshly caught ingredients from around the world – making them ideal destinations for anyone wanting an upscale dining experience without going too far out of their way.
And while it is true that these establishments tend to charge higher prices than other sources due to their quality standards – sometimes it is worth paying extra money in order to enjoy truly exceptional flavors which cannot be found anywhere else.
In conclusion, there are plenty of options available when searching for fresh or frozen cockles, depending on where one lives geographically and how much time/money one wishes to invest into obtaining this delicacy. These include traditional retail outlets such as grocery stores or specialty seafood shops, online retailers who deliver directly, or simply visiting one's favorite restaurant where chefs create unique dishes using only top-notch ingredients sourced from around the globe.
For those looking to buy fresh or frozen cockles, local fish markets and grocery stores are great options as well as online retailers and delivery services. Specialty seafood shops and restaurants may also offer these delicacies for purchase. Now, let's look at how to get the most out of your cockles – be they fresh or frozen – by properly preparing and storing them for safe consumption.
Key Takeaway: When it comes to buying cockles, there are several choices available: from local fish markets and grocery stores for the freshest product, online retailers offering high-quality frozen options delivered straight to your door, or specialty seafood shops and restaurants where you can get a taste of exquisite flavors. No matter the selection, one can find something that fits their desires.
Tips for Preparing and Storing Fresh or Frozen Cockles
For fresh or frozen cockles, it is important to clean them by rinsing them under cold water and scrubbing away any dirt with a brush. If using frozen cockles, thaw them in the refrigerator overnight before cleaning. Make sure to discard any broken shells or dead ones that don't close when tapped on a hard surface.
Properly Storing Fresh or Frozen Cockles:
Once cleaned, store your fresh cockles in an airtight container lined with damp paper towels and keep them refrigerated until ready to use within 24 hours for optimal taste and texture. You can also store cockles for up to three months by freezing them in airtight bags.
The shelf life of cooked versus uncooked cockles varies greatly depending on how they are stored. Cooked cockles can be stored for up to four days in an airtight container in the refrigerator, whereas uncooked ones should not exceed two days due to their high moisture content and potential spoilage. On the other hand, frozen cooked or uncooked cockles can be safely stored for up to three months without losing flavor quality and texture when defrosted correctly before consumption.
Conclusion
In conclusion, cockles are delicious and versatile seafood that can be used in many recipes. With the right preparation techniques and storage methods, you can enjoy fresh or frozen cockles all year round. Whether you're looking for an easy weeknight meal or something more adventurous to impress your guests, there will surely be a recipe using cockles that will fit the bill.
For those who want the convenience of having their favorite seafood delivered directly to their doorsteps, Lobster & Seafood Mail Delivery Company offers top-quality products at competitive prices. Discover the deliciousness of Maine Lobster House's fresh seafood mail delivery service, and savor the unique flavor of cockles today! Enjoy a taste of the sea without ever leaving your home.
Cockles FAQs
What are cockles called in the USA?
In the US, cockles are sometimes referred to as "clams." Cockles, a type of bivalve mollusk, are commonly found in many coastal regions and estuaries. They have a soft shell that is usually round or oval in shape and come in various sizes, from very small to quite large. Cockles are a great addition to many dishes, ranging from soups and stews to chowders and pasta, offering a sweet flavor similar to other types of seafood. When prepared right, cockles deliver a great source of protein with a flavor reminiscent of shrimp or crab.
What's the difference between a clam and a cockle?
Clams and cockles are both types of bivalve mollusks, meaning they have two shells that open and close. Clams tend to be larger than cockles, with a thicker shell and more pointed ends. Cockles typically have a thinner shell with rounded edges. In terms of taste, clams tend to be saltier, while cockles are milder in flavor. Additionally, clam meat's texture is firmer than cockle meat, which can often be quite tender.
What is the importance of cockles?
Cockles are an important part of seafood cuisine, especially in coastal regions. They have a mild flavor and can be served raw or cooked. Cockles are a nutritious source of protein, calcium, iron, magnesium, and omega-3 fatty acids that provide health benefits without excessive fat.
Cooked to perfection, cockles have a delicate sweetness that blends beautifully with ingredients such as garlic butter and lemon juice. They are also low in fat, which makes them a great choice for those watching their weight while still enjoying the benefits of seafood consumption.
What is a cockle seafood?
A cockle is a species of mollusk commonly found in shallow waters around Europe, North America, and Australia, with its shell resembling the shape of a heart when viewed from above. It has a small, round shell with ridges on its surface that resembles a heart shape. The flesh inside the shell is firm and white in color with a slightly sweet taste. Cockles, with their firm white flesh and slight sweetness, can be enjoyed raw or cooked in various dishes such as paella or chowder.