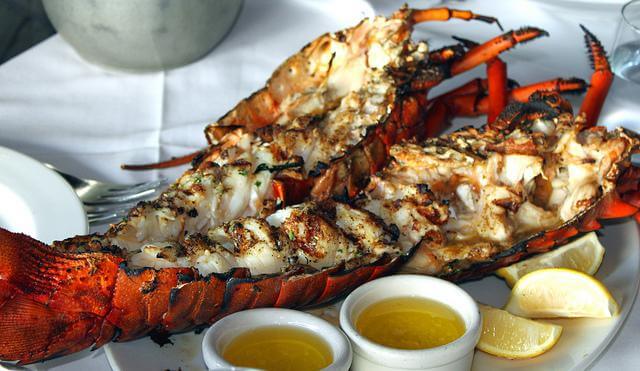 Photo by Prayitno licensed under CC BY 2.0
For people who never waste a chance to use the grill, knowing how to grill lobster tails is a must. Although the traditional lobster-cooking methods are boiling or steaming, lobster enthusiasts know that grilling gives these crustaceans a unique flavor that no other cooking method can duplicate. Learn all the tricks of the trade so that you can impress your barbecue guests.
Set your gas grill on medium-high or get your charcoals ready – it's time to grill some lobsters!
Prep the tails

The prep time is the trickiest part of this process. However, if you've ever baked or fried lobster tail before, there's also some prepping involved with those processes, too, so you're one step ahead of the game.
Take your thawed tails and lay them on a cutting board with the underside up. Use a sharp knife to make a slit lengthwise in each tail, going from the end of the tail up to the belly. You don't need to cut completely through the tail. Instead, you should be able to open the two halves to expose some of the meat.

Break out the Butter

Pour some melted butter over the exposed meat. You can add some of your favorite spices here, too, like pepper or sea salt. Garlic butter is the perfect companion to grilled lobster.

Get Them on the Grill

Turn the tails so that the side you just cut is facing down on the grill racks. Keep them on the hottest area of the grill for about three minutes, and then move them to the cooler side of the grill.
How Long Do You Grill Lobster?
These tails should take about 6 to 8 minutes total to cook, depending on their size. Don't turn them as they cook! Since you cut them, the heat will disperse right through the meat.
They'll be done when their shells turn bright red and their meat turns white instead of translucent.

Cool Them Off

After you remove the tails from the grill, allow them to cool for about three minutes or so. Serve with herb or garlic butter and enjoy!

Conclusion: Everything You Need to Know to Grill Lobster Tail
Now you know the best way to grill lobster tails, so you're ready to rock your next cookout. Learning how to grill lobster tails in the shell is one of the simplest methods to cook some of the most delicious lobsters possible. Once you master the preparation, you're set to be a crustacean grilling champ. Check out our other articles, recipes, and tips for cooking your Maine Lobster House tails at home!