Photo by GW Fins licensed under CC BY 2.0
Frying foods is a science. Between mixing up the perfect batter to having the oil at just the right temperature, there are several things that can go wrong. But when everything is in place, a whole lot of things can go right. That's especially true when you're working with one of the best things to ever come out of the sea: the lobster.
How to Fry Lobster Tails
There are a lot of variations of batter that works well with fried lobster tails, but we're firm believers that a cornmeal-based batter is one of the best. The sweet flavor works perfectly with lobster and gives the tails some Southern inspiration. Try this fried lobster recipe at home and top with a drizzle of butter for a savory meal.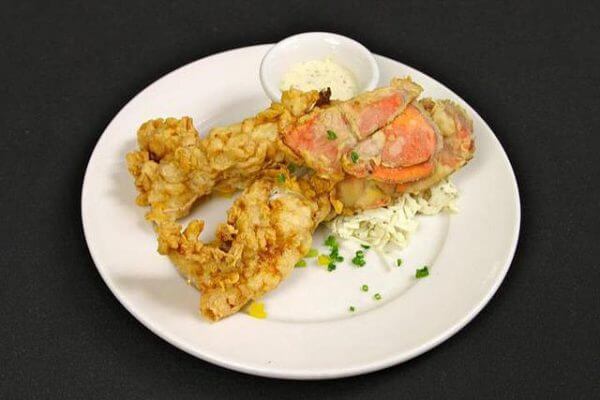 | | |
| --- | --- |
| | |
1. Prep the tails by cleaning them and slicing the top of their shells in half to expose the meat partially. This is a technique called "butterflying".

2. Heat your fryer oil to 370 degrees.

3. Combine all batter ingredients in a gallon-size plastic bag.

4. Toss the tails, one at a time, into the bag. Holding the opening of the bag closed, shake the bag to coat the tail.

5. After you coat one, carefully drop it into the oil. Each tail should take about 3 to 5 minutes. You'll see the meat turn white and the coating will become a light golden brown.

6. Remove with tongs and place the tails on a paper towel-lined plate.
How to Make Fried Lobster Bites
If you're not a fan of keeping your tails in their shells, you can always cut the meat into bites to make deep fried lobster bites. This method gives you a lot of crunch with each meaty morsel and they're the perfect size for dipping.
To make these, you'll take the meat out of the shell and cut it into bite-sized pieces. You can use the same batter mixture as you'd make for the fried tails and use the same technique to coat the pieces. Place several pieces at a time into the oil and wait for the batter to turn light golden brown.
Serve with butter or tartar sauce and enjoy!
Conclusion: Deep Fried Lobster
Frying lobsters is one cooking method that every lobster fanatic should try. Mastering the batter is the trickiest part and, as you can see, this cornmeal batter is a simple mixture to simplify the process. Order your tails from Maine Lobster House and have them conveniently shipped to your doorstep. Get to frying and enjoy the fresh flavor!