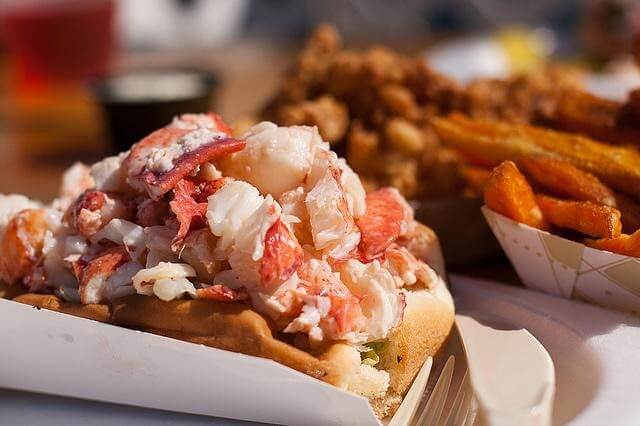 Photo by Yuri Long licensed under CC BY 2.0
If you're thinking about making the trip to Maine for a coastal getaway, you'll need to know where to get the best lobster rolls your money can buy. Lobster rolls are a staple in Maine and they're easy to find in almost any town you visit. They're not all equal, though! Here are some of the very best dining spots to find lobster rolls made with fresh Maine lobster: 
Boothbay Harbor: Boothbay Lobster Wharf
This coastal Maine town is a favorite vacation spot for tourists who want to enjoy the relaxing downtime Maine has to offer. At Boothbay Lobster Wharf, patrons can sit inside or outdoors on the covered patio right by the water. The lobster roll here might be on the pricey side, but locals and tourists insist it's worth every penny, packed full of lobster with just the right amount of mayo and served on a perfectly toasted roll.
Georgetown: Five Islands Lobster Company
Georgetown is one of the most gorgeous harbors in the state, but it's also home to some excellent eateries, like Five Islands Lobster Company. This restaurant has a few choices for lobster rolls, including the Big Boy, which has double the lobster meat of a traditional lobster roll packed into a homemade potato roll.
Kennebunk: The Clam Shack
Search for the best lobster rolls in Maine on the web and you'll almost always see a mention of The Clam Shack in Kennebunk. This small shack sits next door to its own seafood market where you can buy fresh clams, lobsters, and more, but you can also grab some tasty, already-made seafood at the Shack. The Lobster Roll has all the meat from a one-pound lobster served on freshly baked rolls from local bakeries. You can even grab a Lobster Roll Kit with everything you need to make lobster rolls at home!
New Harbor: Shaw's Fish & Lobster Wharf
Located right on the water of New Harbor, Shaw's Fish & Lobster Wharf offers beautiful views (you might even catch a glimpse of lobster boats in action!) and tasty food from the sea. The lobster rolls here are served on a buttered, toasted bun with a generous helping of lobster mixed with just the right amount of mayo and placed atop chopped lettuce for a little crunch.
Old Orchard Beach: Tami Lyn's Place
Old Orchard Beach is a must-see place in Maine that's ripe with summer events, shopping, dining spots, and more. Tami Lyn's Place is a local favorite, featuring both a variety store and a few dining tables to enjoy its homemade food. The cozy dining spot's lobster roll is actually on the inexpensive side as far as lobster rolls go, yet it's continuously raved about by patrons as one of the best lobster rolls they've ever tasted. You can choose to have your lobster mixed with butter or mayo, and it'll come with some fresh lettuce on a toasted roll.
Portland: Andy's Old Port Pub
You can't visit Maine without heading to Portland, one of the state's most beloved cities that's as bustling as it is quaint and historic. You'll especially need to check out Old Portland, which locals nickname "Old Port," with its waterfront views, endless shopping, and incredible eateries you can't find anywhere else in the country. Andy's Old Port Pub is one of the most notable restaurants in Portland, known for its yummy lobster offerings, including lobster bruschetta, a lobster melt, and of course, Andy's Traditional Lobster Roll, made with fresh Maine lobster and the diner's choice of butter or mayo. 
Portland: The Highroller Lobster Co.
Another Portland favorite, The Highroller Lobster Co. is a food truck that offers a modest menu featuring fresh Maine crab and lobster and other quick-bite goodies. Its lobster roll is one patrons rave about, using romaine lettuce, Maine lobster, a freshly-baked brioche bun, and mixed with one of several sauce choices, like jalapeno mayo or charred pineapple mayo.  
Even if you're not heading to Maine anytime soon, you can still enjoy a lobster roll at home. Order fresh Maine lobster from Maine Lobster House and you'll have it shipped to your home in a few days. Then, learn how to make a delicious lobster roll from Seafood University. Enjoy!