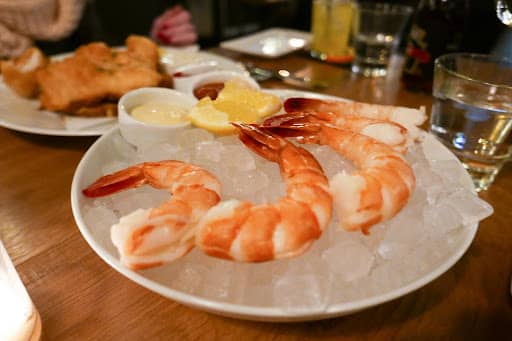 For a quick and simple way to prepare shrimp at home, look no further than this no fuss preparation. Just a few ingredients and tools are all you need for homemade boiled shrimp. Serve boiled shrimp as shrimp cocktail, or incorporate into recipes like salads, sushi and more! 
Depending on the dish that you'll be serving, we can recommend either medium or jumbo shrimp. If incorporating the shrimp into recipes like salads or sushi, medium shrimp is an excellent option. If serving shrimp cocktail we recommend our Jumbo White Shrimp. Large in size and full of incredible flavor, our jumbo shrimp make for an impressive and delicious option. Order them today and keep on hand in the freezer for incredible dishes at a moment's notice. 
With shrimp in hand, plus the following tools and ingredients, you'll be ready to get cooking. 

Begin by prepping the following: 
Ingredients: 
Jumbo white shrimp 

Sea salt (approximately 1 tablespoon per 1.25 lbs. of raw shrimp)

Cold water

Ice
Tools: 
Medium/large saucepan 

Large bowl 

Slotted spoon 

Colander 

Serving dish 
In addition to gathering your tools and ingredients, also make sure to begin with defrosted shrimp. You can defrost shrimp in the refrigerator overnight, or run them over cold water for about 10 minutes until thawed. Make sure to only defrost the shrimp that you'll be cooking, as defrosted shrimp should not be refrozen. 
With thawed shrimp on hand, you're ready to get boiling! 
Begin by boiling a medium pot of cold water over medium heat. 

While the water is heating, prepare an ice bath for your shrimp. Once boiled, you'll want to immediately cool the shrimp to prevent overcooking. 

Take a large bowl and fill it about 3/4 full with cold water and ice. 

Place next to the stove to easily transfer boiled shrimp once cooked. 

Once your pot of water is boiling, add sea salt. (If you'd like to take your shrimp up a notch, you can add ingredients like lemon and bay leaf to the boiling water to impart additional flavor.)

Place the shrimp inside the boiling water and cook for approximately 3 minutes. Keep an eye on the shrimp for signs of doneness including pink hue and curling of the shrimp. 

Once cooked, use a slotted spoon to remove the shrimp from the boiling water. Place immediately into the ice bath to stop the cooking. 

Once shrimp is cooled, drain and pat dry with a clean towel. Chill in the refrigerator until serving. 
It's really that simple to boil shrimp! As long as you begin with quality ingredients, and be careful not to overcook your shrimp, you'll have impeccable results every time. Give this recipe a try, or browse Seafood University for additional ways to prepare shrimp at home.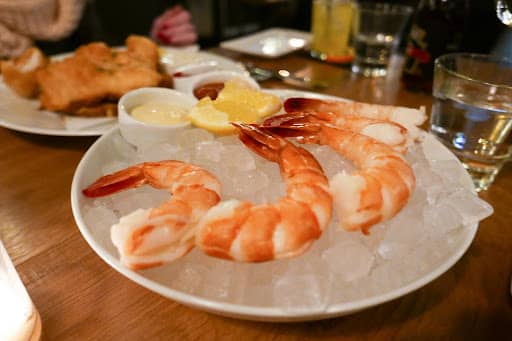 Boiled Shrimp
Equipment
Medium/large saucepan

large bowl

slotted spoon

colander

serving dish
Ingredients  
jumbo white shrimp

sea salt (approx. 1 tbsp/1.25 lbs raw shrimp)

cold water

ice
Instructions 
Begin by boiling a medium pot of cold water over medium heat

While the water is heating, prepare an ice bath for your shrimp. Once boiled, you'll want to immediately cool the shrimp to prevent overcooking

Take a large bowl and fill it about 3/4 full with cold water and ice

Place next to the stove to easily transfer boiled shrimp once cooked

Once your pot of water is boiling, add sea salt. (If you'd like to take your shrimp up a notch, you can add ingredients like lemon and bay leaf to the boiling water to impart additional flavor)

Place the shrimp inside the boiling water and cook for approximately 3 minutes. Keep an eye on the shrimp for signs of doneness including pink hue and curling of the shrimp

Once cooked, use a slotted spoon to remove the shrimp from the boiling water. Place immediately into the ice bath to stop the cooking

Once shrimp is cooled, drain and pat dry with a clean towel. Chill in the refrigerator until serving