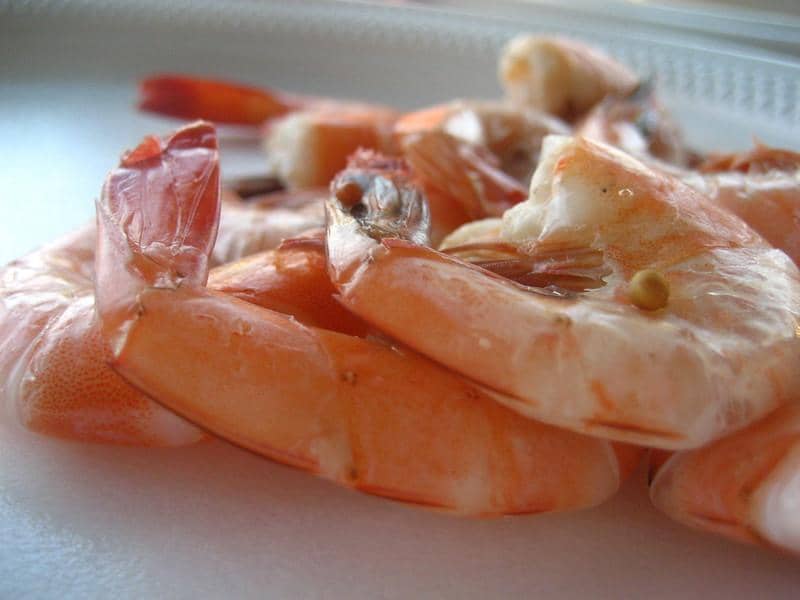 Versatile and oh-so delicious, shrimp is a great crowd-pleasing meal option for family dinners, cookouts, and celebrations. Full of flavor and easy to prepare, shrimp is an excellent ingredient to keep in your meal rotation. Here we'll show you 5 ways to cook shrimp that are fast, easy, and incredibly delicious. 
We recommend beginning any of your shrimp dishes with our fresh selection from Maine Lobster House. We pride ourselves in sourcing the freshest ingredients, and conveniently delivering them straight to your door. Depending on the preparation, we may recommend medium or jumbo shrimp, but you can always adjust to your preference. 
Once your shrimp arrives and you're ready to cook, you'll want to defrost them. Our tips for defrosting shrimp include:
1. If you know you'll be preparing shrimp in advance, remove shrimp from the freezer and place in a bowl in the refrigerator. (If shrimp is in vacuum packaging, remove and place shrimp in a zip top bag instead). Let thaw overnight, for approximately 12 hours. Once fully thawed, cook immediately. Do not refreeze thawed shrimp.
2. If you find that you don't have time for a slow thaw, not to worry! Shrimp can be quickly defrosted in 2 ways.
*Remove shrimp from package and place in a resealable bag. Place the bag of shrimp in a bowl of cold water, making sure it is fully submerged, letting it thaw for up to 1 hour.
* If you're in even more of a time crunch, remove frozen shrimp from the package and place directly in a bowl of cool water. Alternatively, place the shrimp in a colander in the sink, allowing cold water to run over the shrimp. Toss around a few times to ensure an even thaw. In approximately 15 minutes, you'll have shrimp that's ready to cook! Remember to only defrost the shrimp that you'll want to eat, as thawed shrimp should not be refrozen.
With thawed shrimp in hand, you're ready to begin cooking! Here are 5 easy ways to prepare shrimp that will result in some incredibly delicious meals for you to enjoy.
How to Boil Shrimp 
The first preparation we'll review is how to boil shrimp. Boiled shrimp can be used in a variety of dishes like shrimp cocktail, salads and more. 
If preparing shrimp cocktail, we recommend our Jumbo White Shrimp for their impressive size and delicious flavor. If you plan on incorporating shrimp into another recipe, you can opt for medium shrimp. 
In addition to the shrimp, you'll need the following tools and ingredients: 
Tools for Boiled Shrimp:  
Medium/large saucepan 

Large bowl 

Slotted spoon 

Colander 

Serving dish
Ingredients for Boiled Shrimp: 
Sea salt (approximately 1 tablespoon per 1 lb. of raw shrimp)

Cold water

Ice 
Begin with defrosted shrimp, then follow the simple steps below for easy boiled shrimp that takes just minutes to prepare. 
Place a medium pot of cold water over medium heat and bring to a boil. 

While the water is boiling, prepare an ice bath. In a large bowl combine cold water and ice. Set aside. 

Once your pot of water is boiling, add sea salt. 

Next, place shrimp inside the boiling water and cook for approximately 3 minutes. Indicators of doneness include bright pink hue, and slight curling of the shrimp. 

Once cooked, use a slotted spoon and immediately place shrimp in the ice bath to stop the cooking. 

Leave shrimp in the ice bath for a few minutes, then drain. Serve immediately, or chill in the refrigerator until serving. 
It really is that easy to boil shrimp at home! This quick and simple preparation is a perfect one to master, allowing you to enjoy homemade shrimp cocktail or other irresistible shrimp dishes. 
How to Grill Shrimp 
If you're looking for a summer appropriate shrimp recipe, look no further than our guide on how to grill shrimp! Irresistible grilled flavor melds with the sweetness of shrimp and savory seasonings for a delicious meal to enjoy all summer long. 
With all of our recipes, you'll want to begin with defrosted shrimp. Doing so will ensure fast and even cooking.
For this recipe either Medium White Shrimp or Jumbo Shrimp will work. It all depends on your preference. 
All you'll need is a few extra tools and ingredients, and you'll have a delicious summer meal ready in no time. 
Tools for Grilled Shrimp: 
Large bowl

Metal skewers (optional)

Tongs
Ingredients for Grilled Shrimp: 
1lb.

Medium White Shrimp

1/4 cup of olive oil

5 cloves of freshly chopped garlic

Lemon Juice from 1 lemon

1/4 cup of fresh parsley 

1/4 cup of white wine

Salt 

Pepper

Lemon Wedges (for serving) 
The first step to irresistible grilled shrimp is to prepare a quick marinade. The shrimp will meld in these delicious flavors for about 15 minutes before hitting the grill. 2

Place shrimp in a large bowl and sprinkle with salt and pepper.

Next, combine olive oil, fresh garlic, lemon juice, parsley and white wine. Mix to evenly coat the shrimp, then cover. Place in the refrigerator for 15 minutes. Feel free to experiment with your favorite herbs and spices to create a dish that is unique to your flavor preferences. 

If you plan to grill the shrimp on a skewer, let the grill heat while you skewer the shrimp. Otherwise while the shrimp is marinating, heat your grill to 400 degrees Fahrenheit. 

Once heated, place the shrimp on the grill and cook for approximately 3 minutes on each side. Look for a bright pink hue and grill marks as indicators of doneness. 

Serve grilled shrimp with a squeeze of fresh lemon. 

Enjoy! 
In as little as 30 minutes you can have an incredible shrimp dinner, ideal for entertaining on warm summer nights. 
How to Fry Shrimp 
For an indulgent and incredibly delicious way to enjoy shrimp, look no further than classic fried shrimp! This recipe combines the sweet tenderness of shrimp with a crispy coating for a crowd pleasing meal that anyone is sure to enjoy. Serve as an appetizer or enjoy as the main event. 
Begin with defrosted shrimp and these additional tools and ingredients: 
Tools for Fried Shrimp: 
3 shallow bowls

Large pot for frying

Tongs or slotted spoon

Paper towels

Serving dish
Ingredients for Fried Shrimp:
All purpose flower

Eggs

Panko breadcrumbs 

Salt 

Pepper

Canola oil 

Fresh lemon 
To begin, you'll need to prepare 3 mixtures, flour, an egg wash, and panko breadcrumbs. 

In a shallow bowl combine flour with a sprinkle of salt and pepper. 

Next, in a separate shallow bowl, beat 1-2 eggs until smooth. 

In a third bowl, add panko breadcrumbs. (If you'd like to impart additional flavor, feel free to mix seasoned breadcrumbs with the panko. Doing so may alter the texture slightly, but will provide additional flavor). 

BONUS: Combine panko and sweetened shredded coconut for easy coconut shrimp!) 

Next, coat your shrimp evenly in each mixture, starting with flour, then egg, then breadcrumbs. Have a clean dish or sheet tray on hand to place coated shrimp. 

While breading your shrimp, let a large pot of canola oil heat on medium/high until 350 degrees Fahrenheit. 

Fry shrimp in batches, making sure not to overcrowd the pot. Fry for 1-2 minutes until golden brown. To check for doneness, cut open one shrimp. The meat should be opaque white. 

Place fried shrimp on a paper towel lined plate. 

Once all shrimp are fried, serve immediately with a squeeze of lemon, or your favorite dipping sauce. 
How to Blacken Shrimp 
If you're looking for a recipe packed with flavor, you have to try Blackened Shrimp. Marinated in a blend of delicious seasonings, this flavorful preparation is as easy as it is delicious.  
For this recipe, you'll need the following: 
Tools for Blackened Shrimp: 
Medium bowl

Saucepan

Skillet

Serving dish
Ingredients for Blackened Shrimp: 
Seasoning Blend (homemade) or store bought

Salt 

Pepper

Paprika

Cayenne pepper

Garlic powder

Onion powder

Oregano

Thyme 

Melted butter

Olive oil 
Begin by preparing a spice blend of salt, pepper, paprika, cayenne pepper, garlic powder, onion powder, oregano, and thyme.  Alternatively, purchase a spice blend in the grocery store. 

Separately, in a saucepan, melt a few tablespoons of butter over medium heat. Be careful not to burn the butter. 

Next, combine the shrimp, melted butter and seasonings in a bowl. Marinate for up to 1 hour in the refrigerator. 

When ready to cook, prepare a skillet over medium/high heat. 

Coat with olive oil and heat for 2 minutes. 

Add an even layer of shrimp to the pan, cooking for about 2-3 minutes on each side. 

Repeat until all of your shrimp are cooked. 

Serve and enjoy! 
This blackened shrimp recipe is as easy as combing a few delicious spices, and throwing onto a hot skillet! Shrimp cooks up in minutes for a fabulous meal in no time at all. 
How to Steam Shrimp 
The last preparation we'll cover is steaming. Similar to boiling, steaming shrimp allows you to create endless recipes like shrimp cocktail, salads, and more! If preparing shrimp cocktail, we will always recommend Jumbo Shrimp. If you are opting to incorporate steamed shrimp into other dishes, feel free to use medium or large sized shrimp. 
To steam shrimp, you'll need the following on hand – 
Tools for Steamed Shrimp 
Large pot with steamer basket

Serving dish
Ingredients for Steamed Shrimp 
Begin with defrosted shrimp. 

Fill a large pot with cold water and place over medium heat. Be sure that your steamer basket is not submerged in water when placed on top. 

Bring water to a boil. If you'd like to impart additional flavor onto the shrimp, you can add lemon juice, wine, or seasonings to the water. 

Once water is boiling, place shrimp in the steamer basket and let cook. Do not overcrowd the basket. Shrimp should steam for about 5 minutes. 

If serving cold, transfer the shrimp to an ice bath with cold water and ice cubes. This will stop the cooking process to ensure shrimp is perfectly cooked and chilled. Once the shrimp is chilled, drain the water and pat dry.

Store in the refrigerator for up to 1 day, or serve immediately with fresh lemon wedges. 

Alternatively, incorporate steamed shrimp into any recipe of your choosing! 
With these cooking methods on hand and our fresh shrimp in tow, you have everything you need to create a delicious meal for friends and family to enjoy.