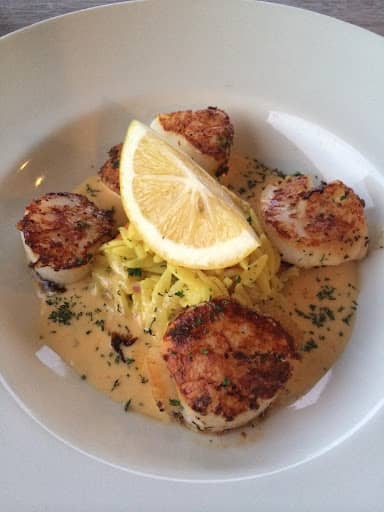 Perfect for summer cookouts and warm-weather celebrations, grilled scallops are an easy, yet elegant dish to serve – sure to delight any crowd. 
This preparation is quick and simple, requiring few tools and ingredients, making it an easy, yet impressive appetizer or main course. 
Begin with high-quality scallops, like our Fresh Atlantic Sea Scallops – which boast unbeatable flavor and freshness. Next, gather a few staple ingredients and you're ready to get grilling! 
Ingredients for Grilled Scallops:
(Serves 4)
1-2 lbs. of

Fresh Atlantic Sea Scallops

 

2-4 tablespoons of Olive Oil 

2-4 teaspoons of garlic powder 

Salt (to taste)

Black pepper (to taste)

Fresh Herbs (optional, for garnish) 

1-2 fresh lemons, cut in wedges (optional)

melted butter (optional)
To begin, make sure to defrost your scallops. Remove the seafood from the vacuum packaging and place in a zip-top bag. Defrost overnight in the refrigerator, or complete a quick thaw by placing the scallops in a bowl of cool water for about 15 minutes (repeating a few times if necessary).
Once scallops are defrosted, pat dry to remove excess moisture.

Next, turn on the grill and let preheat on high. 

While the grill is heating up, season the scallops with olive oil, garlic powder, salt and black pepper.

Massage the scallops with the oil and seasonings, making sure they are coated on each side. 

When the grill is hot, place scallops on the grates and let cook for 2-3 minutes, untouched. 

Using tongs, flip the scallops and let finish cooking for another 2 minutes. 

Signs of doneness include those beautiful grill marks and an opaque center. You can also check the temperature for doneness. Cooked scallops should have an internal temperature of 125 degrees Fahrenheit. 

Once cooked, transfer scallops to a platter and serve. 

Grilled scallops can be accompanied by melted butter, fresh lemon wedges and a sprinkle of herbs. 

Enjoy! 
With a quick cook time and few ingredients needed, grilled scallops are perfect to prepare for a no-fuss, yet fantastic meal. They work well as an easy appetizer, or can be served alongside simple side dishes for a fabulous main course. 
Really to get grilling? Place an order with us today!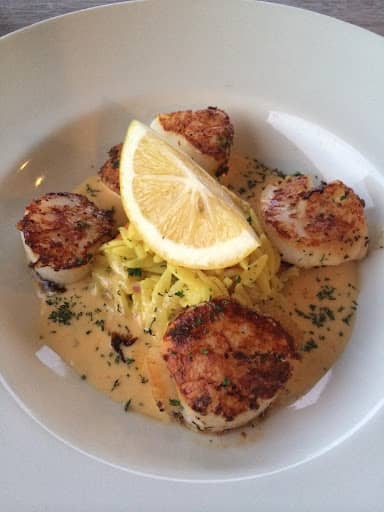 Grilled Scallops
Ingredients  
1-2

lbs

Fresh Atlantic Sea Scallops

2-4

tbsp

olive oil

2-4

tsp

garlic powder

salt, to taste

black pepper, to taste

fresh herbs (optional, for garnish)

1-2

fresh lemons, cut in wedges (optional)

melted butter (optional)
Instructions 
To begin, make sure to defrost your scallops. Remove the seafood from the vacuum packaging and place in a zip-top bag. Defrost overnight in the refrigerator, or complete a quick thaw by placing the scallops in a bowl of cool water for about 15 minutes (repeating a few times if necessary).

Once scallops are defrosted, pat dry to remove excess moisture.

Next, turn on the grill and let preheat on high

While the grill is heating up, season the scallops with olive oil, garlic powder, salt and black pepper

Massage the scallops with the oil and seasonings, making sure they are coated on each side

When the grill is hot, place scallops on the grates and let cook for 2-3 minutes, untouched

Using tongs, flip the scallops and let finish cooking for another 2 minutes

Signs of doneness include those beautiful grill marks and an opaque center. You can also check the temperature for doneness. Cooked scallops should have an internal temperature of 125 degrees Fahrenheit

Once cooked, transfer scallops to a platter and serve

Grilled scallops can be accompanied by melted butter, fresh lemon wedges and a sprinkle of herbs