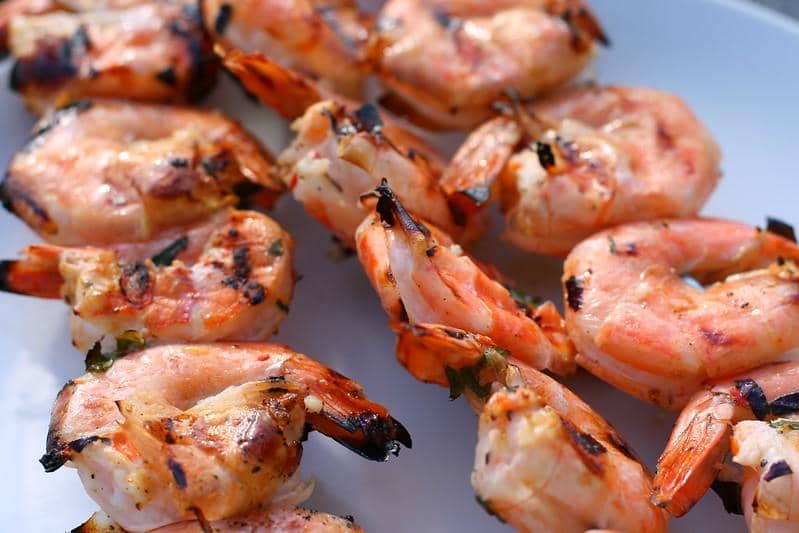 Grilled shrimp is an irresistible summer dish that melds luscious shrimp, delicious seasonings, and smokey grilled flavor for a crowd-pleasing dish that anyone is sure to enjoy. 
What we love about grilled shrimp is the endless ways you can prepare it, easily accommodating various flavor preferences. Additionally, grilling shrimp takes just minutes, so a fantastic dinner can be ready in no time at all. 
To begin preparing sensational grilled shrimp, you have to start with the best ingredients. At Maine Lobster House, we source only the finest seafood and deliver it straight to your door. Freshness and flavor are guaranteed with our shrimp, whether you prefer medium or jumbo shrimp is up to you. 
Gather your favorite ingredients and the following tools, and you'll have grilled shrimp on your table in no time. 
Ingredients for Grilled Shrimp: 
1 lb. Medium or Jumbo Shrimp 

3-4 tbsp. Olive Oil 

Seasonings of Choice,

Such as:

Herbs (14/ cup of parsley)

5 cloves of garlic 

1/2 lemon squeezed 
OR
3-4 tbsp. Olive oil 

2 tsp honey

2 Chipotle Peppers 

1 lime squeezed 

1 tsp. garlic powder
Tools for Grilled Shrimp: 
Large bowl 

Tongs

Metal Skewers (optional) 
With any preparation, we recommend beginning with defrosted shrimp. Remove any vacuum packaging and place shrimp in a resealable bag instead, Place shrimp in the refrigerator overnight (for approximately 12 hours). Make sure to only thaw the shrimp that you'll want to cook, as thawed shrimp shouldn't be refrozen.
To thaw shrimp quickly, you can either place the package in a bowl of cool water for about 1 hour, or place the shrimp in a colander in the sink, letting cold water run over them for about 15 minutes. 
Once you have defrosted shrimp in hand, you're ready to begin cooking! 
The first step to irresistible shrimp is a quick marinade! The flavor combinations here are truly endless, and should be customized to your taste buds. Some great options include combining garlic, fresh herbs and white wine, or chipotle peppers, honey and lime. Whichever flavor combos you choose, combine the ingredients into a bowl with the shrimp and marinate for about 15 minutes. 

While the shrimp Is marinating, heat your grill to around 400 degrees Fahrenheit. Alternatively, if you plan to skewer your shrimp, do so before heating the grill. (Skewering your shrimp is a great option to keep them cooking evenly while on the grill, allowing you to turn multiple shrimp at once).

Once your grill is heated, place shrimp and cook for about 3 minutes on each side. Shrimp will be opaque white and pink when cooked. 

Finish the shrimp with a squeeze of citrus if you desire, and serve hot off the grill. 
It's that quick and easy to grill shrimp at home! The best part is that you can customize the flavors with different marinades, allowing you to experiment with different options for whoever you are feeding. 
Give this recipe a try, or for more inspiration browse our Seafood University which has all the tips and tricks you need for cooking shrimp, lobster, crab and more!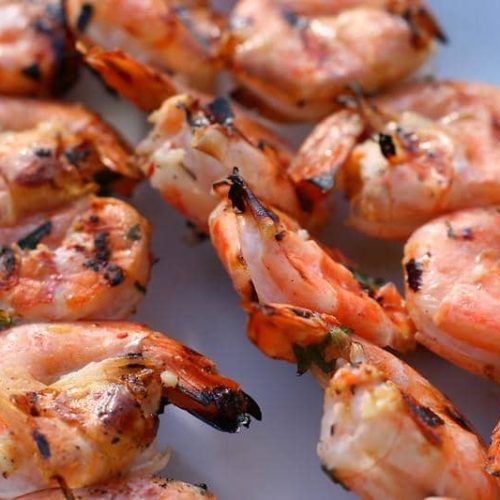 Grilled Shrimp
Equipment
large bowl

tongs

metal skewers (optional)
Ingredients  
1

lb

medium or jumbo shrimp

3-4

tbsp

olive oil

seasonings of choice; such as, herbs (1/4 cup parsley), 5 cloves of garlic and 1/2 squeezed lemon, OR 2 tsp honey, 2 chipotle peppers, 1 squeezed lime, and 1 tsp garlic powder
Instructions 
The first step to irresistible shrimp is a quick marinade! The flavor combinations here are truly endless, and should be customized to your taste buds. Some great options include combining garlic, fresh herbs and white wine, or chipotle peppers, honey and lime. Whichever flavor combos you choose, combine the ingredients into a bowl with the shrimp and marinate for about 15 minutes

While the shrimp Is marinating, heat your grill to around 400 degrees Fahrenheit. Alternatively, if you plan to skewer your shrimp, do so before heating the grill. (Skewering your shrimp is a great option to keep them cooking evenly while on the grill, allowing you to turn multiple shrimp at once)

Once your grill is heated, place shrimp and cook for about 3 minutes on each side. Shrimp will be opaque white and pink when cooked

Finish the shrimp with a squeeze of citrus if you desire, and serve hot off the grill