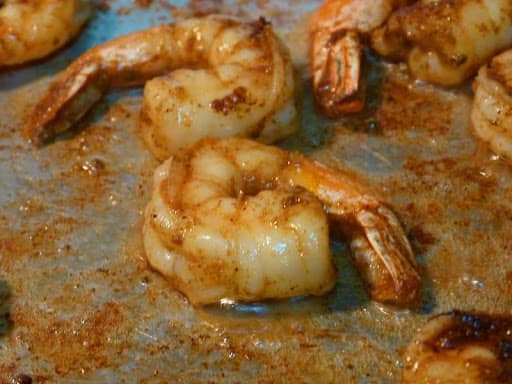 If you're looking for a flavor packed way to cook shrimp at home, you have to try this blackened shrimp! Bold flavors meet the sweet and succulent taste of shrimp for a mouth-watering combination. Quick to prepare and incredibly delicious, blackened shrimp may just become part of your regular meal rotation. 
Begin with defrosted shrimp. 
Our tips for defrosting shrimp include: 
Thaw shrimp in the refrigerator overnight, for about 12 hours. 

For a quick thaw, place the package of shrimp in a bowl of cold water for about 20 minutes. (If the shrimp is in a vacuum sealed package, remove from the packaging and place in a resealable plastic bag instead.

For an even faster thaw, remove shrimp from the package and place in a colander. Run cold water over the shrimp for about 15 minutes until thawed. 

Make sure that however you thaw shrimp, you cook all of it. Defrosted shrimp should not be refrozen. 
With thawed shrimp in hand, you'll also want the following: 
Tools for Blackened Shrimp: 
Medium bowl

Saucepan

Skillet

Serving dish
Ingredients for Blackened Shrimp: 
1lb.

Medium White Shrimp

Seasoning Blend (homemade or store bought)

1 tsp. salt 

1 tsp. pepper

1 tbsp. paprika

1/2 tbsp. cayenne pepper

2 tsp. garlic powder

1 tsp. onion powder

1 tsp. oregano

1 tsp. thyme 
2-3 tbsp. melted butter

Olive oil
Begin by melting a few tablespoons of butter in a saucepan over medium heat. Heat just until melted, making sure not to burn the butter. 

While the butter is melting, prepare a spice blend of salt, pepper, paprika, cayenne pepper, garlic powder, onion powder, oregano and thyme. The blend can be homemade, or you can purchase a spice blend at the grocery store. 

Next, combine the shrimp, melted butter and seasonings in a bowl and let marinate in the fridge for about 1 hour. 

When you're ready to cook, heat a skillet to medium/high heat. 

Add olive oil and let heat for about 2 minutes. You want your skillet to be hot enough to create a nice sear on the outside of the shrimp. 

Cook the shrimp in an even layer in the skillet for about 2 to 3 minutes on each side. Cook in batches if necessary. Do not overcrowd your pan. 

Remove cooked shrimp from the pan and set aside.

Once all of your shrimp is cooked, platter and serve immediately. 
That's it! Blackened shrimp is such an easy way to make shrimp that is quick and flavorful. Make this meal for easy weeknight dinners, or serve at a party for a flavor packed dish that your guests are sure to love. 
For more inspiration browse our Seafood University, or get cooking with an order of our shrimp today!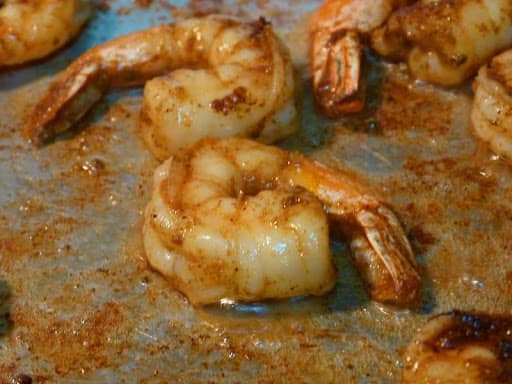 Blackened shrimp
Equipment
medium bowl

saucepan

skillet

serving dish
Ingredients  
1

lb

medium white shrimp

seasong blend (homemade or store bought): 1 tsp salt, 1 tsp pepper, 1 tbsp paprika, 1/2 tbsp cayenne pepper, 2 tsp garlic powder, 1 tsp onion powder, 1 tsp oregano, 1 tsp thyme

2-3

tbsp

melted butter

olive oil
Instructions 
Begin by melting a few tablespoons of butter in a saucepan over medium heat. Heat just until melted, making sure not to burn the butter

While the butter is melting, prepare a spice blend of salt, pepper, paprika, cayenne pepper, garlic powder, onion powder, oregano and thyme. The blend can be homemade, or you can purchase a spice blend at the grocery store

Next, combine the shrimp, melted butter and seasonings in a bowl and let marinate in the fridge for about 1 hour

When you're ready to cook, heat a skillet to medium/high heat

Add olive oil and let heat for about 2 minutes. You want your skillet to be hot enough to create a nice sear on the outside of the shrimp

Cook the shrimp in an even layer in the skillet for about 2 to 3 minutes on each side. Cook in batches if necessary. Do not overcrowd your pan

Remove cooked shrimp from the pan and set aside

Once all of your shrimp is cooked, platter and serve immediately