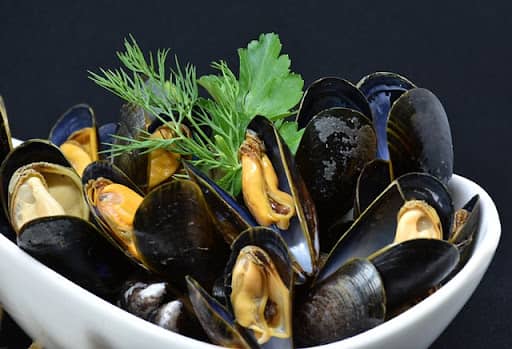 Are you ready to take your seafood cooking skills up a notch? If you're ready to up your seafood cooking game, then mussels are an excellent way to do so. From preparing and cleaning them properly to knowing which recipes work best with these succulent shellfish, this guide will provide all the tips and tricks necessary for creating delicious meals using mussels. So let's get started on your journey to understanding just what makes cooking mussels such an enjoyable experience.
Table of Contents:
Preparing Mussels
Cleaning Mussels:
Before you can cook mussels, they must be properly cleaned. Start by discarding open mussels that don't close when tapped on the counter. Then, scrub the shells with a brush to remove dirt and barnacles. To debeard the mussel, grab the beard and pull it away from the shell towards its hinge point. Discard any damaged or broken shells before cooking.
Choosing The Right Mussels:
When selecting fresh mussels for cooking, look for ones that are heavy in weight and have tightly closed shells; avoid those with cracked or chipped shells, as these may not be safe to eat. Obtaining seafood from reliable vendors is essential for ensuring the freshness and source of the product.
Storing Mussels:
Fresh live mussels should always be stored in an airtight container filled with cold water until ready for use; this will keep them alive longer than if they were just placed on ice alone or left out at room temperature. For optimal freshness, it is important to replace the water periodically. Never store cooked mussels in water as this can cause bacteria growth which could make them unsafe to eat later on.
Cooking Mussels
Boiling Mussels
Mussels, a delectable seafood, can be prepared in numerous ways. Boiling is one of the easiest and most popular methods for cooking mussels. To begin, you will need to clean your mussels thoroughly by scrubbing them with a brush and removing any barnacles or seaweed from their shells. Bring the mussels and liquid of your choice to a boil over high heat. Simmer for about 5 minutes until all of the shells have opened up, then discard any unopened ones as they may not be safe to eat.
Serve boiled mussels hot with melted butter, garlic bread crumbs, white wine sauce, lemon juice, or other accompaniments.
Steaming Mussels
Steaming is another great way to cook mussels quickly and easily while preserving their flavor and texture. Start by bringing 1-2 inches of water (or broth) to a boil in a large pot over medium-high heat before adding the tray of cleaned mussels into it. Cover the pot with a lid tightly so that steam builds up inside, which helps cook the mussel faster without losing too much moisture or flavor. Steam for about 3-5 minutes until all shells have opened up before discarding any unopened ones, as they may be unsafe to eat.
Serve steamed mussel hot with melted butter dip sauces like garlic butter sauce or white wine sauce alongside some crusty French bread slices on the side.
Baking Mussels
Baked Mussel is an easy yet delicious way of preparing this delectable seafood dish at home without spending too much time in the kitchen. Begin by preheating the oven to 350F before cleaning your fresh batch of live mussels under running cold tap water using a stiff brush. Arrange the mussels on a baking sheet with some olive oil and herbs such as oregano and thyme before popping them in the preheated oven for a quarter of an hour until the shells become golden. Serve baked mussels warm alongside grilled vegetables and mashed potatoes.
Key Takeaway: Cooking mussels can be quick and easy with boiling, steaming, or baking. Boil them in water or broth for 5 minutes until all shells open up; steam them over medium-high heat for 3 to 5 minutes, discarding any unopened ones; or bake at 350F for 15 minutes after sprinkling olive oil and herbs on each shell. Enjoy these succulent morsels.
Serving and Eating Mussels
When serving mussels, bear in mind the accompanying flavors that will best complement their briny taste. Accompaniments for mussels can range from simple butter or garlic sauces to complex dishes such as risotto or pasta. 
Presentation is also important when it comes to enjoying mussels; think about how you want your dish to look before plating up your meal. A classic presentation uses a large bowl filled with steamed mussels, served alongside some crusty bread, for dipping into any leftover sauce. 
Another option is creating individual plates with each person getting their own portion of mussels arranged artistically on the plate – this allows everyone to get an equal share without having to fight over who gets the most.
Lastly, safety tips for eating mussels include avoiding raw shellfish and ensuring that all cooked shells have opened prior to consumption – if they haven't opened after cooking, then discard them as they may contain bacteria that could make you ill.
No matter how you decide to serve your delicious seafood feast, always ensure that proper food handling techniques are followed and that all ingredients used are fresh and safe for consumption.
Recipes Using Mussels
Mussels are a delectable and adaptable oceanic sustenance that can be utilized in various dishes. Appetizers, main dishes, and even desserts can all benefit from the addition of mussels. Here's how to make the most out of this tasty ingredient.
Appetizers with Mussels:
For an appetizer that will impress your guests, try making mussel fritters. Combine flour, eggs, garlic powder, onion powder, and salt to make a batter before folding in the pre-cooked mussels. Heat some oil on medium heat before dropping spoonfuls of batter into it until golden brown on both sides. Serve with tartar sauce or cocktail sauce for dipping.
Main Dish with Mussels:
For this Linguine with Mussels recipe, start by sautéing some shallots or onions in olive oil over medium heat until they become translucent. Then add white wine with minced garlic and reduce by half before stirring in tomato paste, followed by chicken broth or vegetable stock depending on preference. Add parsley leaves, thyme sprigs, and crushed red pepper flakes if desired for an extra kick.
Finally, incorporate cooked linguine noodles, then toss in freshly steamed mussel meat at the last minute to prevent them from overcooking as the other ingredients finish cooking through properly.
Dessert with Mussels:
Believe it or not, there are actually quite a few desserts that feature this delicious seafood ingredient as part of their recipe, including classic favorites like lemon meringue pie. This is made using sweetened condensed milk and egg yolks beaten together while slowly incorporating heated butter melted down from previously boiled shelled mussel meat (mashed). This serves as its base layer instead of traditional pastry crust when cooled off after baking. This should result in a perfectly textured custard filling just waiting to be topped off with fluffy meringue topping.
Key Takeaway: Using mussels, you can make delicious appetizers like fritters or a main course such as linguine with tomato sauce. Even desserts are an option; for example, lemon meringue pie made from sweetened condensed milk and boiled mussel meat makes for a tasty treat.
Conclusion
Cooking mussels can be a rewarding experience. Try sautéing, steaming or baking mussels in your favorite recipe for a flavor-packed meal. With their delicate texture and sweet taste, mussels make an excellent addition to any meal. So why not give cooking mussels a try today? You won't regret it.
Try Maine Lobster House for the freshest mussels delivered right to your doorstep! With our expert cooking tips and recipes, you'll be sure to enjoy a delicious seafood feast.