Maine Lobster
Surf & Turf
$229.95
Reg.
$359.95
save 36%
USE PROMO CODE: LOBSTERTAIL
To Receive 2 FREE Cold Water Lobster Tails on any orders of $179+. Expires December 6th
QUICKS FACTS:

MAINE LOBSTER:

Cold Water Maine Lobster is the sweetest, most succulent species of lobster in the world

SUSTAINABLE:

Seafood caught using practices that maintain healthy fish populations and ecosystems, while also ensuring the livelihoods of fishermen and coastal communities

FRESH:

Our seafood is caught once the customer has placed an order, guaranteeing freshness and minimizing waste

NUTRIENTS:

Vitamin B12, Zinc, Selenium, Omega-3 fatty acids

SHIPPED OVERNIGHT:

To guarantee freshness upon arrival
Ocean to Table
At Maine Lobster House, we only offer the freshest seafood options. Our cold water lobsters have sweet white meat, known for being the best tasting lobster in the world. Maine lobster is caught from cold waters, and served very fresh. The perfect entree to enjoy with any meal. If you're looking for the very best seafood on the market, then you've come to the right place.
Maine Lobster Surf & Turf
Enjoy the remarkable flavors of fresh, Atlantic seafood with an order of Fresh Caught Live Lobsters with our Chicago Steak Filet Mignon. Perfect for an upcoming celebration, these live lobsters are a delightful pairing along side the Filets for the perfect main course. Utilizing the best ingredients and flavor combinations, you and your guests are sure to enjoy this culinary delight.
Assortment Includes:
4 1 & 1/2lb Maine Live Lobsters
4 6oz Chicago Steak Company Filet Mignons
Why Buy Live Lobster?
The process of freezing lobster can cause ice crystals to form in the lobster's meat, which can damage the cell structure and make the meat softer and more mushy. Our live lobster is fresher and has a sweeter flavor than frozen lobster, thanks to its superior quality. We take pride in offering lobster that has a firmer texture and a pleasant chewiness, giving you a true taste of the ocean.
Chicago Steak Company Filet Mignon
The butcher's choice filet mignons are exactly that, the Butcher's choice steaks! These specially reserved steaks are the very steaks that butchers would take home to enjoy with their families. Each steak is hand-selected and hand carved to ensure you get the best cut possible, and then wet-aged for a minimum of 28 days to intensify its naturally delicious flavor. That is why our filet mignons are among the most flavorful, juicy, and tender filet mignons you'll ever eat. These exquisite steaks are sure to satisfy!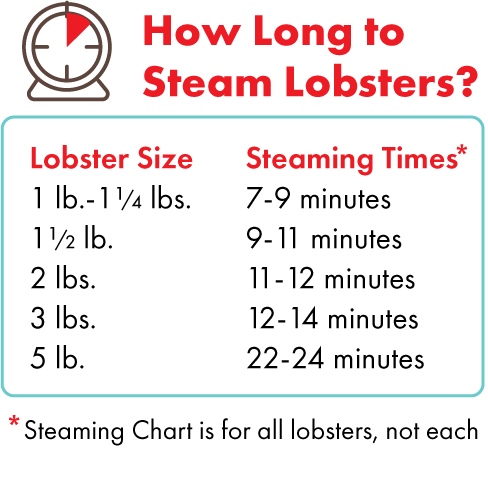 Filet Mignon Cooking Instructions
If your steak is frozen, we recommend thawing it in a pan, thawing in a pan helps catch any drippings that may occur, under refrigeration for 24 hours.
Season with our signature steak seasoning.
When turning your steak, be sure to use tongs and not a fork. A fork will puncture the steak and allow for the juices to escape the steak.
Allow your steak to rest for half of the cooking time. This allows for the juices to flow back into the center of the steak.
Steak Cooking Tips
1. Plan ahead. Know the cut of steak you are cooking. A steak is more flavorful and tender if not overcooked.
2. Preheat your grill or broiler to high. Charcoal coals should be ashen grey and red-hot. When cooking on top of the range, the cast iron skillet or grill pan should be hot, but not smoking.
3. Season your steak with salt & pepper or a blended mix to taste.
4. Lightly oil your cooking surface.
5. Sear the steaks on first side using the times listed on the Steak-Cooking Chart as a guide. Flip when juices begin to bead on the surface.
6. Cook your steaks on the second side and use the steak cooking chart below as a guide for time. Less time will be needed on the second side. Steaks may cook quickly, so be attentive.
7. Gauge doneness. This may be determined by touch or meat thermometer. A rare steak will feel very soft when touched and will have an internal temperature of 120° - 125°F. Medium rare steak will feel soft and spongy to the touch and register 130° F, medium steaks will offer resistance when touched and register 140° -145° F. Well-done steaks will be firm with an internal temperature of 160° F.
8. Rest your steak. Allow steaks to stand for 5 minutes before serving. This lets the juices flow from the center of the meat to the exterior, resulting in a juicy & succulent steak. 
Check out Steak University to learn more ways to cook filet mignon like a pro. We'll show you the best ways to grill, pan-sear, or oven-roast your filet mignon for maximum flavor.
Packaged with Care
When you place an order with Maine Lobster House, we do everything we can to ensure that your package arrives in excellent condition. All live lobsters are delivered fresh, guaranteed to arrive alive. They are packaged with gel packs in insulated coolers to keep the lobsters cool, and seaweed to keep the moisture in. Each lobster is separated to ensure they don't pile on top of each other, Our other seafood items are vacuum wrapped and flash frozen to lock in the flavor. For more information on shipping, and other Frequently Asked Questions see our FAQ page.
Watch the Video to see how your order is packed, how it will arrive, and how to thaw it properly.
For more information please see the Shipping Details page.