$0.01
Reg.
$1.00
save 99%
A Taste of Tradition
At Chicago Steak Company, we invite you to taste tradition. Since 1865 with the founding of the Union Stock Yards, Chicago has been at the heart of high-quality American meats. Chicago Steak Company proudly carries on that tradition. We specialize in hand-cut, Mid-West raised, Premium Angus USDA Prime beef - cut by Chicago butchers with five generations of experience. If you're looking for the very best steaks on the market, then you've come to the right place.


Premium Angus Top Sirloin
Every top sirloin we offer is certified USDA Prime or upper-1/3 USDA Choice, putting our steaks in the top 2% of beef worldwide. Each steak is hand-selected and hand carved to ensure you get the best cut possible, and then dry- or wet-aged to intensify its naturally delicious flavor. That is why our top sirloins are among the most flavorful, juicy, and tender filet mignons you'll ever eat. They're the same amazing top sirloins you'll get at 5-star restaurants like Jordan's or Ditka's. In short, the very best steaks your money can buy.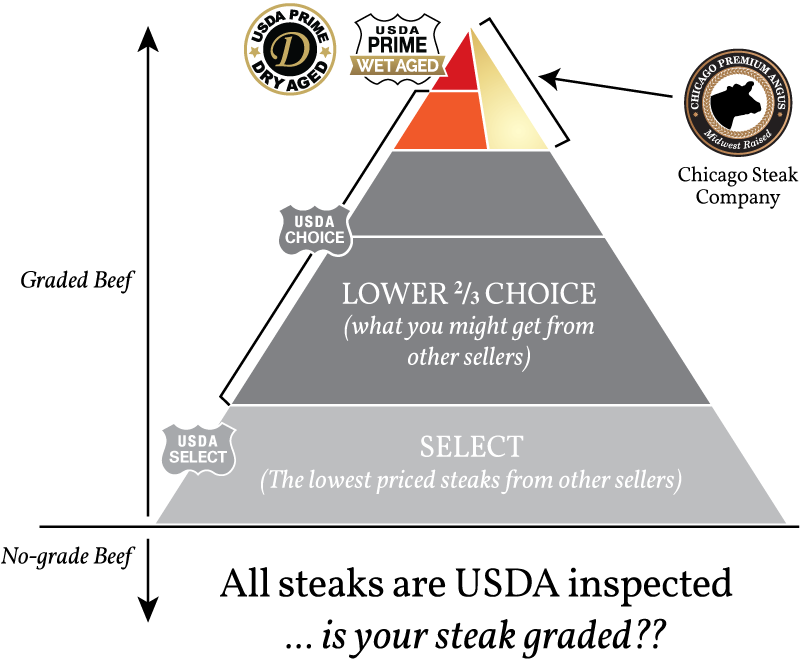 A Top SIrloin Steak is known for it's lean beef makeup. That means there is not an abundance of fat on the steak and the resulting flavor will be bold and beefy one. The Top Sirloin grills quite quickly and makes for a grillers favorite.
Aged Angus Beef
Our passion to bring you mouthwatering steaks shows in every bite of our gourmet beef sirloin steaks. Aged a minimum of 28 days, these savory Angus beef sirloins offer you an easy way to satisfy any steak enthusiast's appetite. This flavor packed steak is ideal for broiling, pan searing and grilling. See a comparison of Top Sirloin vs. Ribeye to learn a little more about our cuts!
Top Sirloin Nutrition Facts

Serving Size

6oz

Calories

366

Calories from Fat

216

Total Fat

24.3g

Sodium

84mg

Protein

33.9g
Packaged with Care
When you place an order with Maine Lobster House, we do everything we can to ensure that your package arrives in excellent condition. All live lobsters are delivered fresh, guaranteed to arrive alive. They are packaged with gel packs in insulated coolers to keep the lobsters cool, and seaweed to keep the moisture in. Each lobster is separated to ensure they don't pile on top of each other, Our other seafood items are vacuum wrapped and flash frozen to lock in the flavor. For more information on shipping, and other Frequently Asked Questions see our FAQ page.
Watch the Video to see how your order is packed, how it will arrive, and how to thaw it properly.
For more information please see the Shipping Details page.